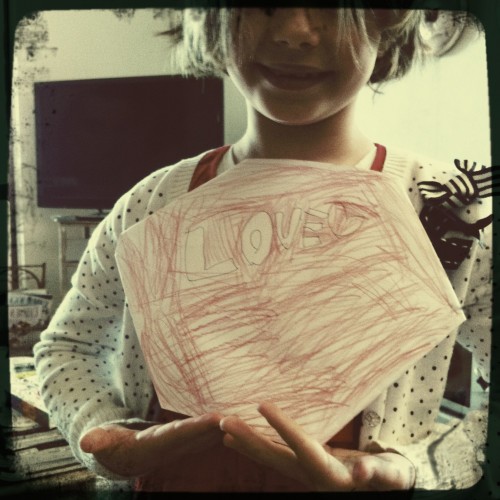 Dear friends with Love Signs and kids
The other day I received this gorgeous pic from my friend Alison. Her daughter Phoebe made her own Love Sign.
Isn't it beautiful? I think it's better than the original, but don't tell anyone.
Then another friend Jane saw it on Faffbook, and said she'd get her young Lila Jean on the case.
So I thought I'd spread the word, plant the seed, and see if some other kids would like to join the party. Should keep them occupied and out of trouble for an hour or so.
If you and yours would like to take part, I'd LOVE to see the results! And—if OK with you and the artist—post a pic on my website. If you like, you can post on the Love Sign Faffbook page.
If we get enough together, perhaps we could have a little exhibition or party or something.
There are no guidelines. Any medium/size will do. Pencil on paper, pastel on card, paint on face, spaghetti on floor, icing on cake.
I've attached a Love Sign template, if this helps. But don't let it hold you back. Feel free to start from scratch, like Phoebe. Hell, it doesn't even need to have eight sides!
How fun! I do love my friends' children. They're hilarious. And such cheap labour.
Thanks to Phoebe (and her parents) for spreading the Love.
big love
al
PS. If anyone can think of anyone I may have missed—especially retailers/galleries and your customers—please pass this on, or drop me a line.